Posted by
pro
in
Team.AU News
on April 25, 2010 |
No Comments
After returning from our amazing week of benching in Taiwan, I had only one regret. It was that I missed out on getting off a proper 32M run. Elmor was able to put up an amazing time but unfortunately with his platform we could not get the ram clocks as we wanted them. This is a replica of Elmors run but with higher ram clocks and you can see the difference it makes to the result.
Platform:
Gigabyte X58a-UD9, Corsair GTX2 2250 88824, Antec 1200OC
Please check out the thread for more info! http://www.xtremesystems.org/forums/showthread.php?t=249307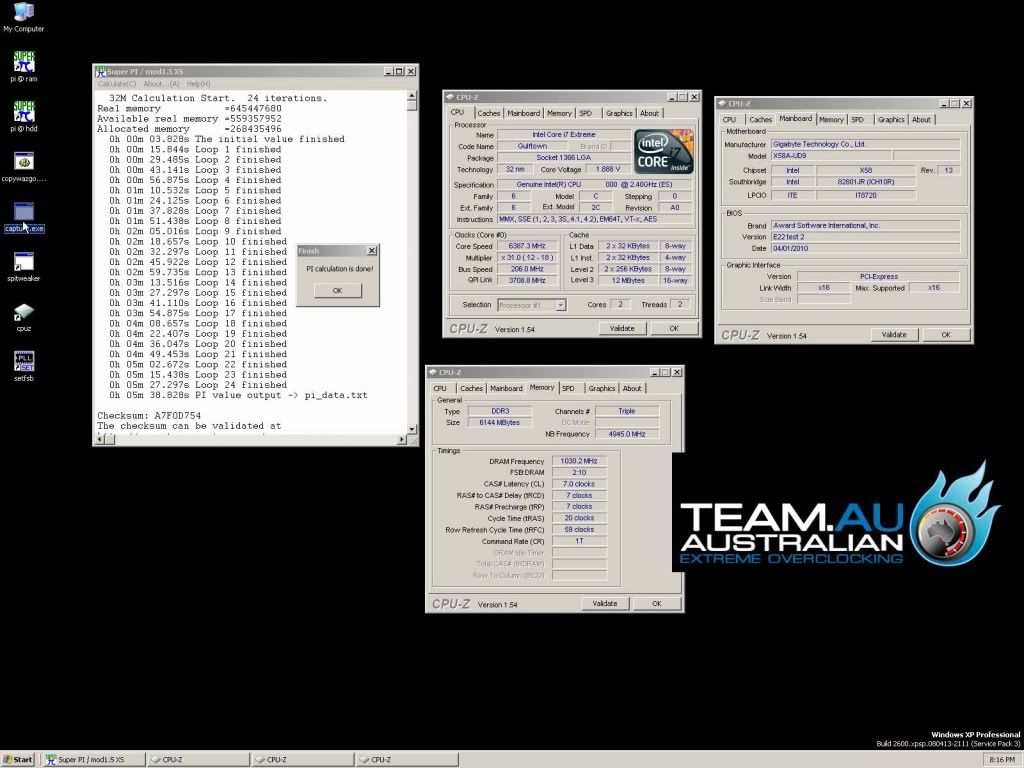 Posted by
pro
in
Team.AU News
on April 25, 2010 |
No Comments
An amazing group of overclockers recently gathered in Taiwan to test the new Gigabyte X58A-UD9, the result? All the 3Dmark world records and Superpi 32M world record broken. The UD9 features the normal gigabyte build quality with PCIE spacing to accomodate 4  double slot GPUs and dual 8 pin power connectors. The big bonus on this board is it seems to be the most efficienct board for SuperPI which is definatly something that Gigabyte could not boast in the past.
Please check out the thread for more info. http://www.xtremesystems.org/forums/showthread.php?t=248891